Personalized navigation that adapts to real life, in real-time.
Meeting your customers where they are based on who they are is the key to meaningful, daily engagement. Choice® makes it possible.
Show her everything she needs before she asks
Smartphones help us manage our busy lives, but life extends beyond your business. Choice® uses your AI and the Web to keep her engaged via unlimited content and service sources.

Build trust and loyalty
Meaningful daily engagement is based upon consent and the respectful use of data.

Get paid in new ways
Consent-based zero-party data supports high-value transactional and subscription revenue models.

Stay one step ahead
Gain a competitive advantage by Transforming the web into an individualized engagement platform.
Connect his data to connect his dots.
Uncover new ways to engage each person by analyzing their shared, consent-based data and real-time engagement behavior.
Limiting content and service access limits your engagement
Single-use
The "app for that" approach ensures limited engagement.
One-size fits all
People are so much more than a persona, health condition or soccer fan.
Connecting across borders drives real connections – daily
Expanded options
Engaging people within the context of their lives creates new opportunities.
Personal touch
Differentiate in a digital world with a human-centric interface.
You're already part of their world.
It's time to help them navigate it.
Engage each person within a trust-based ecosystem that responds to their unique choices and data sharing preferences
Financial Services
Help guide each customer towards their unique financial goals.
Nudge customers towards good financial decision-making by presenting their choices within the context of their everyday lives.
Consumer Services
Engagement strategies that are person-centric, rather than brand centric, drive loyalty.
People engage daily with content and services beyond your brand. Incorporate that behavior into your engagement strategy.
Sports & Leisure
When you know your customers at an individual level, you can create loyal, raving fans.
Sports & Leisure vertical headline
Help each one plan and prepare for vacation, a concert or tailgate party through individualized digital engagement. Present videos and checklists. Help them book excursions or find deals on beverages or cheap seats. And when the main event has passed, keep them engaged with access to highlights, social media posts, photo book services, travel VLOGs and suggestions for the next time around. When you monetize off-property engagement you create resiliency for your organization.
Healthcare
For better outcomes, engage patients within the context of their lives, not their disease.
Health and wellness live outside of the clinic.
Patients are more than their diseases and members are more than their claims. It's time to proactively engage each person in their health to achieve better outcomes and lower costs. Simplify navigation to the most cost-effective care channel for each person's needs, in the moment. Nudge them through individualized navigation to make better choices in support of their own or a loved one's health. Keep each person on track to achieve their unique health and wellness goals by engaging them daily with relevant content, products and services from their trusted community and care circles.
Employee Services
Provide a single point of access for work, benefits, commuting and wellness.
Reduce costs by simplifying access to the things employees need and use daily. Help them focus on outcomes and productivity.
Web Standards Based. Choice® uses the HTTP X-Header format for data delivery and HTML to present individualized navigation.
Choice® is taking on the issue of user privacy along with better service and outreach for organizations. This unique solution is going to clear the path for users and organizations to work together instead of against each other.

CTO Mobilize

Choice® is an incredibly unique and one of a kind solution for any company or organization to close the gap on the final mile of engagement.

CEO - Mobilize

Choice® is like adding an engagement layer to the Web! It lets us use web standards and consent-based data to close the marketing feedback loop, while building trust through data transparency. With Choice®, we can now help our brands engage each customer on their individual daily journey across a limitless ecosystem of content and services they can monetize in countless ways.

Co-Founder, True Velocity Partners
The human-centric interface that adapts to each person based on their data sharing preferences, interests, goals and engagement history.
Dynamic data sharing
Choice® zero-party data is available anytime a user engages with you.
Adapts and learns
Choice® uses your rules engine or AI to individualize navigation based on shared and engagement data.
Privacy built-in
Choice® uses opt-in data sharing consent. The ME database is designed with global privacy laws in mind.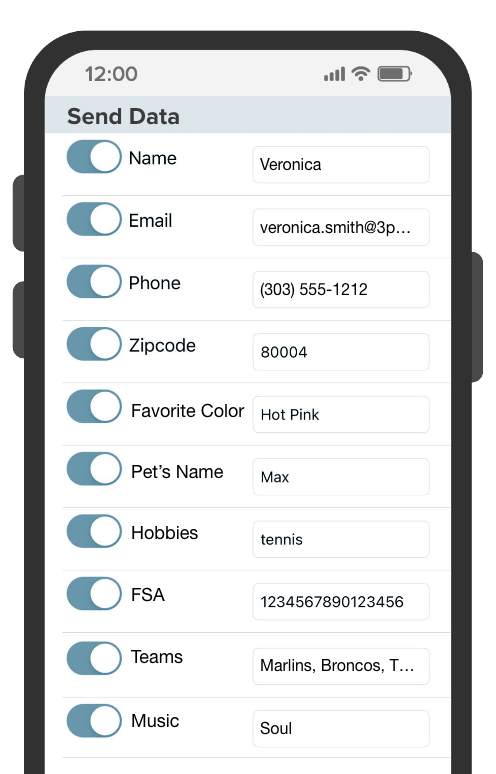 Enabling OEM technology
Choice® is delivered as an OEM mobile app, that is fully customizable by you.
Safe and secure
Choice® uses HTTPS by default, but since you customize the app, you choose your encryption method.
Seamless integration
Choice® use web standards to share data and deliver real-time and individualized app navigation.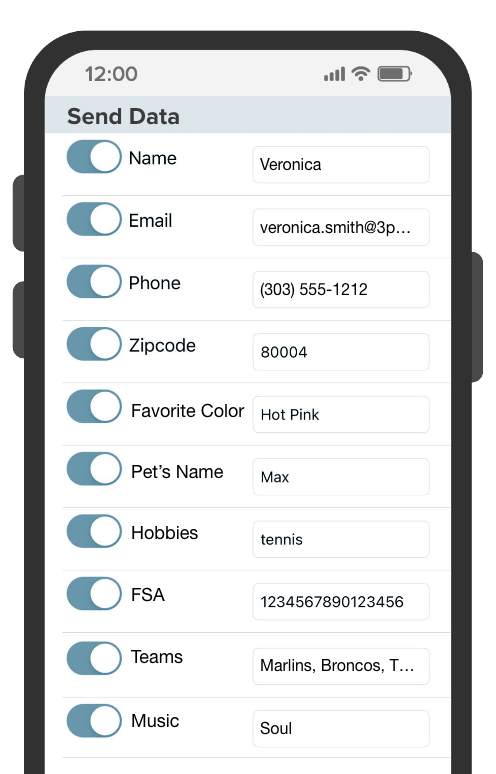 Start engaging on a deeper level
Choice® opens up a new engagement layer to the web. Create deeper connections with your customers and greater resiliency for your business through respect-based data ecosystems enabled by Choice®.