GDPR: Meaningful Choices Lead to Meaningful Change – How to Get There
by Peter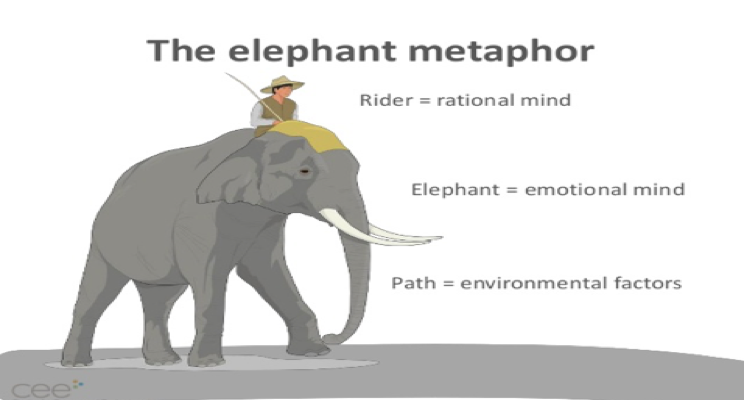 GDPR: Meaningful Choices Lead to Meaningful Change – How to Get There
In my last post, GDPR: Meaningful Consent or Meaningful Choice? Which is more valuable? I introduced several new concepts… let's take just a few moments to review them.
The Elephant and the Rider: Inside each of us (Me) there is an emotional side the Elephant, and the rational side the Rider.
N of 1. (link) An n-of-1 experiment is the smallest study you could possibly do: one that involves just a single subject – Me.
Path The notion that if you want someone (Me) to change, then you must guide Me along a familiar path like my current environment.
Now let's look at how to get there (Meaningful Change).
We need to start with what is familiar and simple for the individual. As every one of us understands the "App for that" concept let's begin there. We now run into our first problem when it comes to GDPR and Consent. Each person, will make individual selections when it comes to consent (Accept and Continue is no longer a viable option).
Consent has turned into My Choices, individualizing me to the content provider, telling them not to treat me as a generic person anymore if you want me to remain engaged.
In fact, the more you can engage with me on an individual basis the greater the value of my data to your business. But how do we more fully engage people through technical means?
Individuals make better decisions when presented with meaningful choices. Choices that are based on our unique needs — as they change in the moment. The only way to know what choices to deliver to each person is to treat them as an individual person, not just a data subject.
To solve the problem of, "How do we get there?" required an innovation leap. We needed something new, but also familiar and simple. We couldn't overwhelm the rider or the elephant instincts in all of us, otherwise the individual would resist the change.
We started by asking ourselves two questions:
"Why doesn't the Web know Me?"
"What is the most familiar and simple to use App in the world?"
That gave us our starting point — the browser. From there, we set about improving it, not replacing it with yet another, "App for that." We added a feature to it that allows the individual to share their choices (consent) in a secure and private manner with the content provider. The individual always remains in control of the collection, flow, use and assignment of their private data as it should be.
With access to this new "choice" data, the content provider could individualize each person's navigation in a meaningful way. One that guides me down my unique path of least resistance to a mutually beneficial interaction for us. And to ensure that IT could also follow us down their best path, we enabled the Apps navigation menus to be programmed using simple HTML commands.
The result is that all the stakeholders' needs are met: My experience changes to reflect my current needs and choices, content providers have more contextual data about me and Internet standards and Web service approaches remain intact, reducing stress on IT.
By focusing on Me, and innovating, rather than replacing the current web standard, we minimize disruption and maximum impact.
In closing there is one other item to consider – The Network Effect. Which is the effect that one user of a good or service has on the value of that product to other people (Source).
Each individual now sets up their own network effect as they engage with the content provider. The simplest example would be healthcare — the more data I share with you, the better you can guide me on a daily path to better health. It sets up its own financial and healthy rewards for all the stakeholders.
Posted in: GDPR, Privacy, Privacy by Design
---
Email Subscription
---
Categories